Looking for a fun, easy, and festive DIY project this Christmas? Look no further than this acorn cap miniature Christmas tree idea! This cute little tree is perfect for anyone who wants to bring some yuletide cheer to their home without spending hours (or days!) on complicated decorations. A mini tree is a great addition to your holiday decor, and this one is super easy to make, and the best part is that it is practically free!
Acorn Cap Miniature Christmas Tree
This DIY mini Christmas tree craft is easy to make and looks adorable. It's a great way to get in the holiday spirit.  Since it's made with just paper, glue, acorn caps, and a bit of paint, it's something affordable that pretty much anyone can make.  Just get outside and start gathering a few acorns to turn into a fun new project!
Mini trees may just be a slight obsession of mine, and that's why this is such a favorite.  I've made so many of them in the past including this gold ring ornament mini Christmas tree that's fancy and this upcycled sweater mini Christmas tree that's simple but elegant.  Now you can add this for rustic charm!
What Can I Use Instead of Acorn Caps? 
What makes this craft so special is that you are using natural elements. When you are making this miniature Christmas tree and you do not want to use acorns, you can also use anything else that is a natural element. You want to make sure that the things that you are using are either flat on one side or round. Otherwise, the items will not be able to be glued into place easily to form the tree.
I like the idea of using any shell from nuts like pecan shells, walnut shells, peanut shells, or pistachio shells.  We've even made a pistachio shell mini Christmas tree in the past that was brilliant.  Pinecones are another option that looks great.  You can break the scales off and glue them in place or even whole small pinecones can work.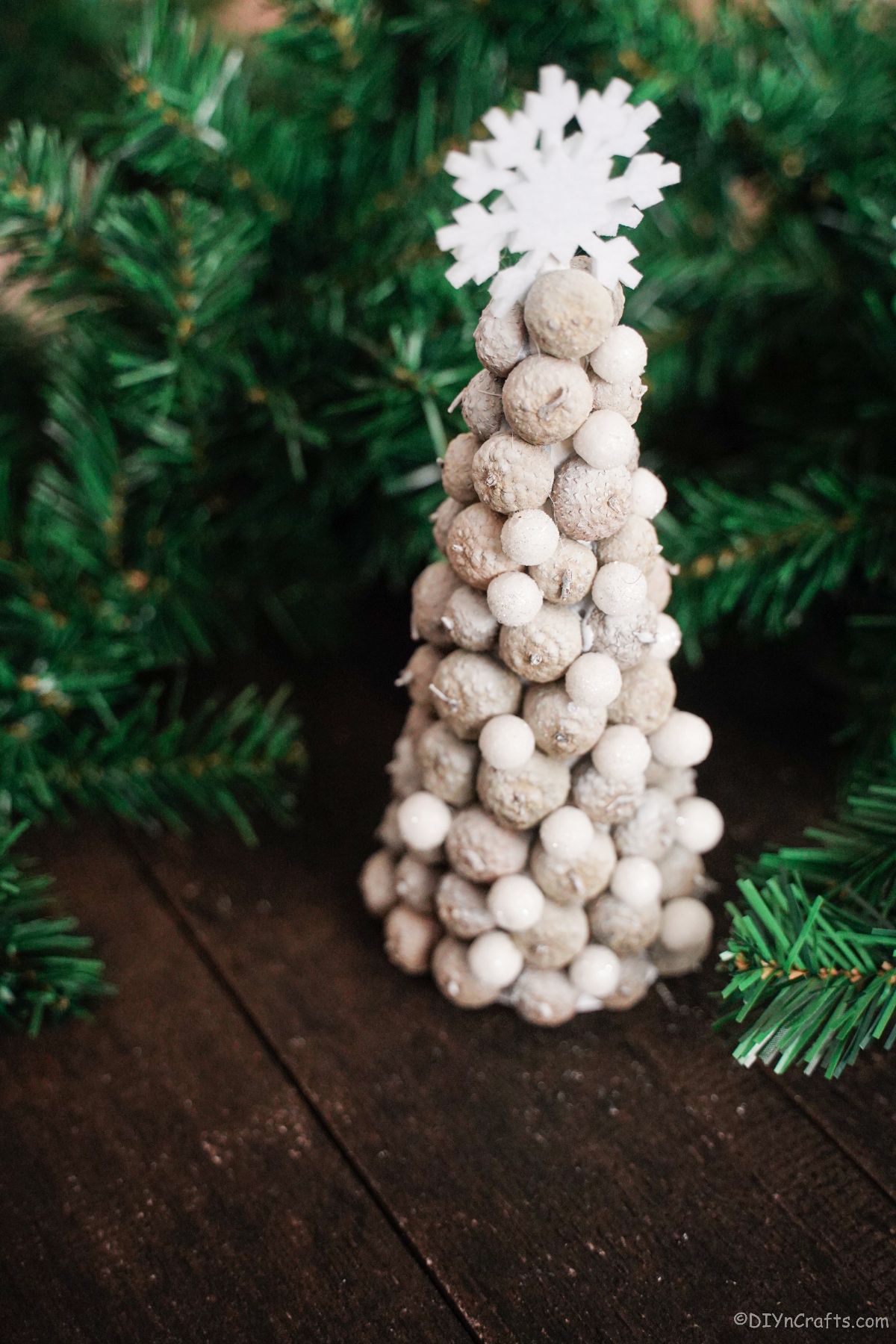 Can I Decorate This Differently?
There are a lot of ways that you can decorate this tree differently.  As with all of our ideas, customizing them is the best part of the project!  Below are some of my personal favorite ideas that you can easily incorporate into your own creation this year. 
The main way to change the decorations is to change the color. You can paint the tree green, or you can do another color, like blue. I love the look of blue and silver together, which is very popular. Of course, there are a lot of color combinations that you can choose from for this tree.
You can add fake snow to the Christmas tree.  Use spray snow, cotton batting, pillow batting, or even glue and white or silver glitter. 
Puffballs or pom-poms can be glued to the tree in order to create the look of Christmas balls.
Sequins can be added to look like lights on the tree.
Beads can be strung on thread and then wrapped around the tree to look more like garland or lights. 
Add small ornaments or miniature bells to replace ornaments. 
You can also use garland, tinsel, or ribbon to decorate the tree!
Get creative and have fun making the tree truly unique for you and your family. 
Where Should I Display This Mini Tree?
This mini tree is easy to display around the house. Place the miniature Christmas tree on the mantle by the fireplace or on a shelf around the house. You can also use this mini tree as part of a Christmas village. If you are going to use the tree as part of a village, make sure that you have a little bit of space between each item. This will help to create the look of a village.
The tree can also be displayed outdoors. Since the base of the tree is not weather-safe, you need to make sure that the tree is protected from the weather, like on a porch near the house.  Alternately, you can use a plastic base instead of paper for the cone of the tree so it is a bit more weather safe.
What Paint Should I Use on a Fake Christmas Tree Decoration?
One of the easiest ways to paint the acorns of the fake Christmas tree decoration is spray paint. Spraying the acorns is the fastest way since you can get all of the acorns at once and you do not need to brush or sponge each acorn.  You can, of course, use any craft paint if you prefer.  Just know that water-based paints won't stick as well to the acorns themselves. 
Supplies Needed
How to Make an Acorn Cap Miniature Christmas Tree Decoration
Cut a piece of white paper into a triangle with a curve on the bottom. 
Roll the paper into a cone and glue or tape to secure. 
Starting at the bottom of the cone, begin gluing acorn caps around the tree.  
Glue them side by side in a row, moving upwards as you go to create row after row of acorns. 
Once you reach the top and the cone is covered, spray paint the entire tree white then set it aside to dry. 
When the paint has dried, glue the fake snowflake or a star to the very top of the tree. 
Then fill in gaps between acorns with white pom-poms or beads. 
Add additional decorations if desired then display them on your mantle.
More Mini Christmas Trees
If you want to add more magic to your holiday decor, then a miniature Christmas tree is the way to do it.  I've made dozens over the years, and below are just a few more of my personal favorites.  Make sure you bookmark them, print the tutorials, or pin them to Pinterest to make soon! 
Yield: 1
Make your own acorn cap miniature Christmas tree with natural elements and upcycled items to create a fun and festive holiday addition to your decor!
Active Time
15 minutes
Additional Time
30 minutes
Total Time
45 minutes
Difficulty
Easy
Estimated Cost
$0
Notes
Update your tree with different colored pom poms to make it pop.
Recommended Products
As an Amazon Associate and member of other affiliate programs, I earn from qualifying purchases.
Finished Project Gallery
Spray the tree with green paint instead then decorate with colorful pom poms for a more natural tree look!