Looking for a fun and easy winter craft idea? This peppermint candy ornament is the perfect project to get you in the holiday spirit. It's quick, inexpensive, and so cute! You can even customize it with different colors of candy or other decorations.
The best part about this DIY is that it doesn't require any special skills or expensive materials. All you need are some basic supplies from your local craft store, like glue sticks and ribbons. Make one for you and one for a friend.
DIY Peppermint Candy Ornament
I love a simple craft that looks great. With this peppermint candy ornament, that is exactly what you get. The candy is adorable and it will be the perfect addition to the top of a present or added to a bag of candy to decorate the outside. Kids will love making this simple craft too. How cute will this DIY peppermint candy ornament look on the tree?
If you love candy canes, then you might like this rustic twine-wrapped candy cane ornament instead.  It's a cute idea that fits the rustic look just a bit better but still has that whimsical holiday theme you love. 
What Else Can I Use if I Don't Have Craft Sticks?
Craft sticks are the easiest to use for the stick of this candy. However, it isn't the only thing that you can use. You can use anything similar.
Some things that would work include dowel rods cut down to size, chopsticks, lollipop sticks, or even just a pencil!  Get creative and paint them to match the candy cane theme, or leave as-is for a unique look!
What's the Best Way to Hang This Ornament?
I really like the ribbon idea for hanging this ornament. It creates a very whimsical effect. However, you can also use a simple string to hang it. I am always a fan of using fishing line to hand ornaments because it disappears into the background. You can also glue an ornament hook onto the back of it and use that to hang it or the simpler option of a paper clip.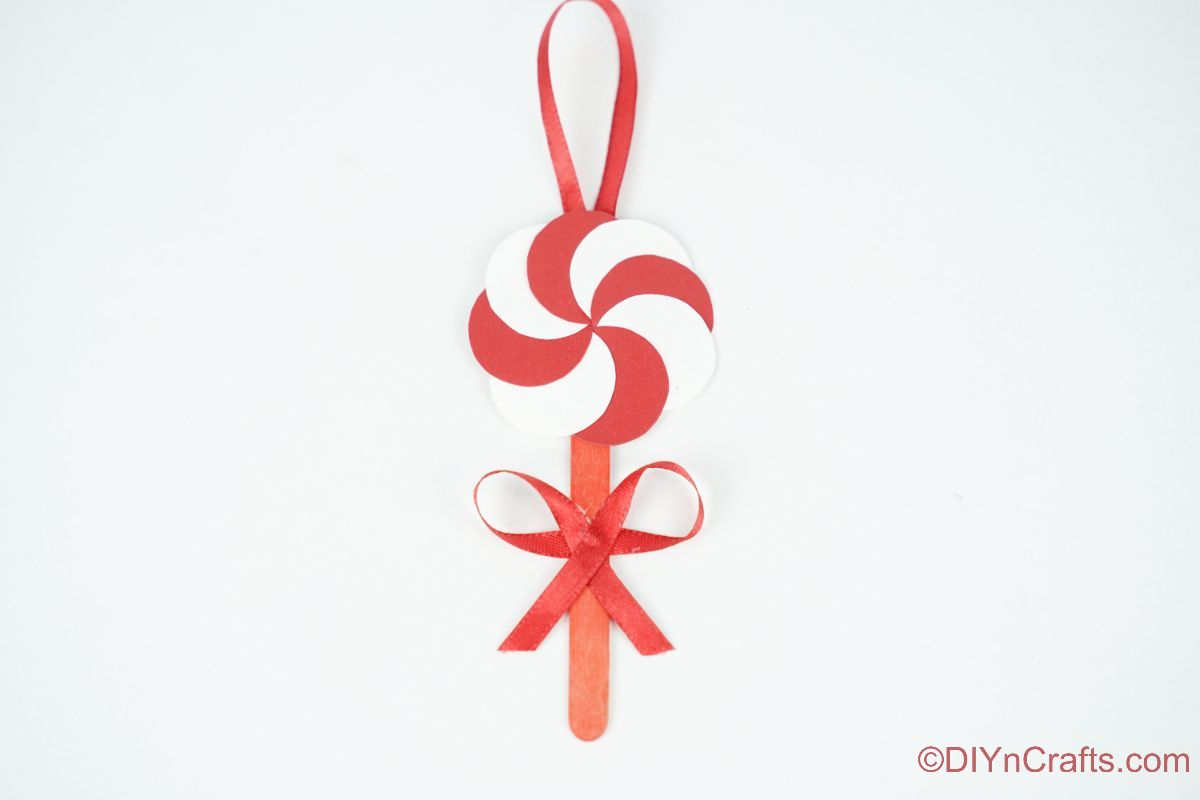 What Should I Use to Make the Peppermint Swirls?
The classic mixture of white and red is the base of this, so of course, you want the swirls to mix back and forth.  Using cardstock, construction paper, craft paper, or scrapbook paper are obvious choices. 
If you don't have those in the colors you need on hand, you can cut circles out of white paper then paint or color some of the circles red to use for the swirls.  In fact, this is a great way to make it unique by having the kids color in the red circles with crayons, pencils, or markers. 
Can I Make This With My Kids?
Kids will absolutely love making this peppermint candy-themed ornament!  They will love hanging it on the tree each year as well. This craft is simple enough for even young children to make, although they might need a little guidance on getting everything together.
It's the perfect choice for helping them get used to cutting and gluing.  You can have them use something to trace the circles onto paper then follow the lines to cut them out.  Since you can attach them with school glue, it's a great safe and easy project they can make and enjoy without worrying about them getting injured from hot glue. 
How Can I Customize This Ornament? 
I love that this craft is so easy to customize.  There are tons of fun ways to make it your own unique ornament. 
Use different/non-traditional colors like green, blue, silver, gold, purple, or pink for the swirls of your candy. 
Add glitter, beads, sequins, or rhinestones to make it sparkle on the tree. 
Slide it into a piece of cellophane with the "stick" hanging below and the top tied like a gift with the ribbon used as the hook for hanging it on the tree. 
You can even spray the ornament with peppermint spray to make it smell like real candy!
There is no end to how creative you can be when you are ready to customize this peppermint candy ornament.  Just use your imagination and make it your own unique little peppermint-themed ornament for the tree. 
Supplies Needed
How to Make a Peppermint Candy Ornament
Measure and cut out 4 circles of red paper and 5 circles of white paper. 
Using craft glue, attach the circles together, alternating colors and moving them a few cm each time to create a circle of swirling colors.  
Once the red and white circle is glued together, attach to a red craft stick with glue and hold to secure. 
Tie a small bow of red ribbon and glue to the front of the craft stick below the candy. 
Cut and glue a length of the red ribbon and create a loop then glue it to the back of the ornament so the loop is above the candy part. 
Add additional embellishments, glitter, etc if desired. 
Hang from the Christmas tree!
More Christmas Ornament Tutorials
If you need more inspiration for your holiday decorating this year, below are some great ideas for making homemade ornaments for your tree.  Whether you get the kids involved in creating or make them all on your own doesn't matter – these are so cute and fun to add to your Christmas traditions.  Bookmark them, print the tutorial, or pin them to your favorite holiday Pinterest board to make soon!
Yield: 1
This red and white peppermint andy ornament is a great addition to your holiday tree this year! Made of paper and easy to make in minutes, kids will love making this!
Active Time
10 minutes
Total Time
10 minutes
Difficulty
Easy
Estimated Cost
$0
Notes
Make this ornament using craft paper, scrapbook paper, or cardstock.
Recommended Products
As an Amazon Associate and member of other affiliate programs, I earn from qualifying purchases.
Finished Project Gallery
These can be made in any color, not just red and white!