This rustic burlap "Merry Christmas" sign is a perfect way to show your love and appreciation for the holiday season. Burlap is a fantastic material for this craft and it helps to make this sign look amazing this holiday season. If you like the popular rustic or farmhouse styles, then this craft is a great addition to your holiday plans this year!
Rustic Burlap Merry Christmas Sign
Crafting is perfect over the holidays. Why not take this time to craft a very special and personal sign that celebrates the holiday? This fantastic sign is the perfect way to spread love and appreciation for the upcoming holiday season. Since it is made out of burlap, this sign will look great in any home throughout the holidays. It makes a great addition to mantles, tablescapes, and doorways.
And, if you like that farmhouse or rustic look, you might also want to check out some more of our favorite decoration ideas.  Here are some great farmhouse-inspired Christmas decorations you might like.  Another list that has some great ideas includes these rustic wood Christmas decoration ideas!  So many fun ways to add a little something extra to the holiday season!
Do I Have to Use Burlap? 
Burlap adds a special flair to this Christmas sign. It gives that farmhouse feel, however, you don't have to use burlap. Whether it is because you do not like burlap, don't have it on hand, or for any other reason, this sign can easily be made with whatever fabric you like. I would recommend using a heavy-duty fabric so that it can handle the message part of the craft.
Felt, flannel, fleece, or any nice and thick fabric works best, but you can really cover this with anything that fits and you have on hand.  I'm a huge fan of using leftover fabric scraps for other crafts, and this is one of those opportunities. 
What Can I Use to Make the Message?
The message on the sign is fun to make that can be made with a variety of materials.  Get creative and use what you have on hand.  For this sign, twisted pipe cleaners are what were used.  Below are a few more ideas you might like using.
Twine
Rope
Ribbon
Yarn
Raffia
Twisted fabric
Patches
Stickers
Cricut vinyl message
How Should I Hang This?
You can place this sign on a cabinet, shelf, or mantle so it leans against the wall or shelf.  You can also hang it on a wall, doorway, or even use it as part of a table centerpiece.  
To hang this sign, you can use a bit of ribbon, rope, or twine glued onto the back of the sign.  Other options include using a traditional picture hanger added to the back, or even Command Hooks.  Use what you have on hand or what works with your particular space and add it to your decor this year.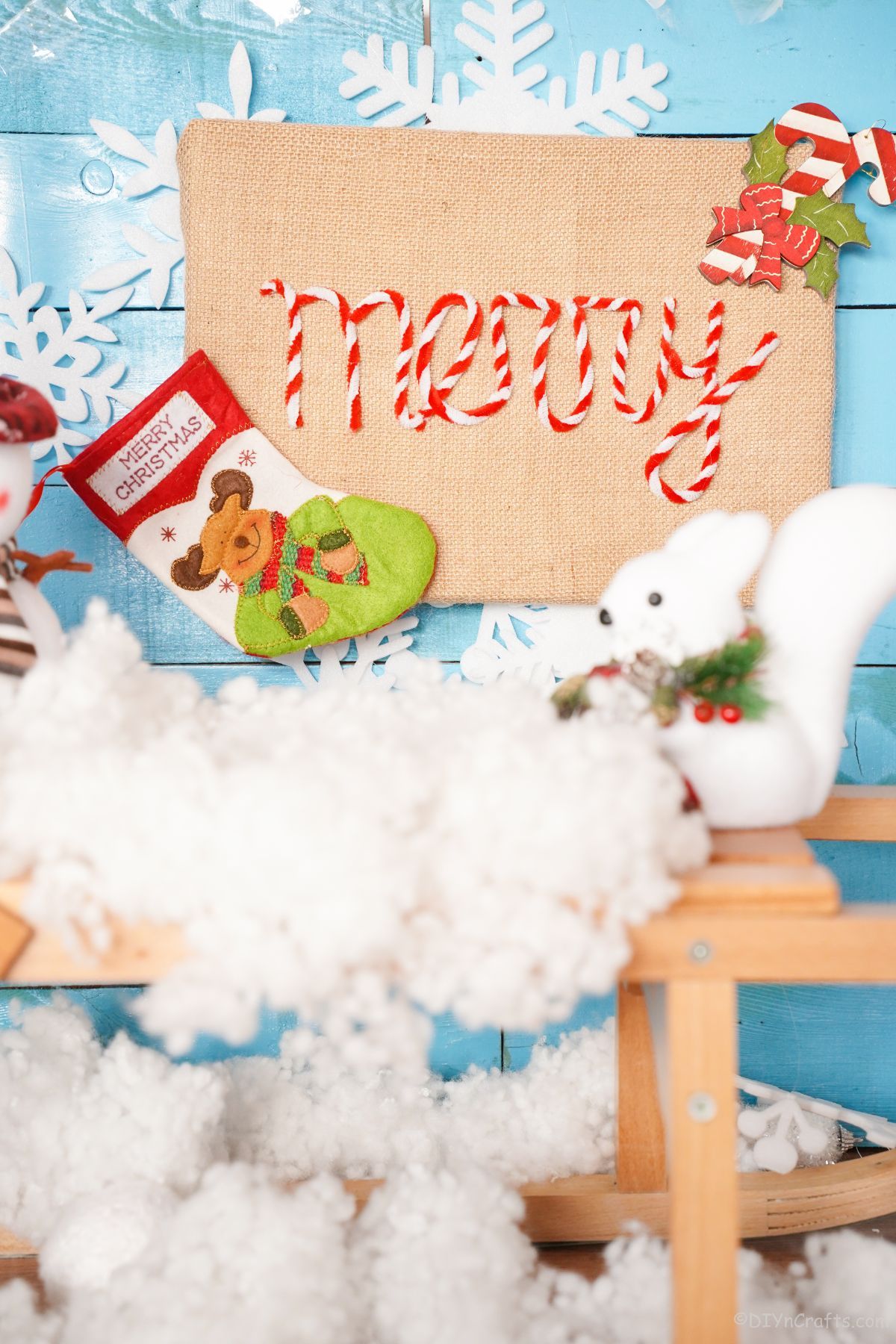 What Ways Can I Personalize This?
As always, this is just an idea to base your decoration around.  Whether you make it identical to this example or use this for inspiration, it's always best to make something your own.  Below are some ideas to customize this that are fun, easy, and affordable. 
Use a different message like Happy Holidays, Happy Hanukkah, Happy Festivus, Happy New Year, or a holiday-colored monogram.
Add glitter glue or spray glitter around the message or around the edges of the sign. 
Embellish with holiday items like berries, greenery, snowflakes, reindeer, Santa Claus, or similar embellishments. 
Add ribbons to the bottom to dangle down as a garland. 
Customize the colors to fit your home theme or even your holiday tree theme. 
Have fun and even get the kids involved with making this to add their unique customizations to the sign. 
Can I Hang This Outside?
This sign is a great addition to mantles, tablescapes, and doorways. However, this sign should not be placed outside because it is not possible to protect it from the elements. The materials used are not weather resistant. The only way to place the sign outside would be to place it on a covered porch or under something similar where it has some protection.
Supplies Needed
How to Make a Rustic Burlap Christmas Sign
Cover a picture frame or large piece of cardboard with a burlap. 
On top of the burlap, use a pen or pencil to trace out your message.  I wrote the word "merry". 
Twist together the pipe cleaners to look like a candy cane.  You may need as few as 5 or as many as 20 depending upon your message.  Start with 5 and add more if needed.
Using the hot glue gun, add a few inches of glue onto the word you have traced, and begin placing the twisted pipe cleaners onto the glue. 
Decorate the edges of the sign with things like a small stocking on one corner, or you can glue a small wooden figure or sign.  
Once done decorating, you can prop this on a mantle or hang it from the door or wall as desired. 
More Easy Christmas Decorations
This is a fun idea to add to your holiday decorations this year, but you may need more ideas for inspiration.  Below are some more of my favorite crafts and decorations to add to your holiday displays.  Make sure you bookmark the tutorials, print them out to keep on hand, or even pin them to Pinterest! 
Yield: 1
Turn scrap craft supplies into a gorgeous burlap Merry Christmas sig in a matter of minutes!
Active Time
20 minutes
Total Time
20 minutes
Difficulty
Easy
Estimated Cost
$2
Notes
This can also be used as a door wreath hanger.
Recommended Products
As an Amazon Associate and member of other affiliate programs, I earn from qualifying purchases.
Finished Project Gallery
Add your own unique spin with different colors or add glitter for sparkle. 
You can even easily add a monogram to this and make it a special family sign for your door.