This giant holly berry and leaf craft is perfect for all ages. It's not only beautiful but also makes the perfect decoration for any home during the holidays. Plus, it takes less than 10 minutes to complete!  There is nothing better than affordable, easy, and fun to make around the holidays!
Giant Holly Berry and Leaf
I love how easy it is to make this giant Christmas decoration. It makes the easiest holiday decoration. This project is so easy to make using materials that are around the house. You can use any type of paper or cardstock to create this project – so it's perfect if you have leftover materials from other projects.
The best part about this project is that there are no rules when it comes to how big or small each piece should be! Let your creativity shine through by making a few different sizes of leaves and berries. Because you can make them in different sizes, you can make them fit into whatever you want.
Do you like the "giant" decoration theme?  Make sure you check out how to make these gigantic Christmas ornaments too! They are so cool and ideal for hanging on your porch.  Another of my favorites is this giant lollipop Christmas decoration.  Both look great together on your porch or walkway. 
What Can I Use for the Berries?
I am using red balloons to make the berries. Red balloons are easy to get and because of blowing up the balloon to size, it is easy to get the right size for the berries.
You can use anything that is medium to large and round. Another option would be to use a beach ball or similar smaller ball that is red or could be painted red.  Of course, if that is too big or heavy, you can always use a piece of red tissue paper and stuff it with more paper or styrofoam to create the berry. 
Where Can I Display These?
This can be displayed in a lot of different ways.  I used mine as part of a centerpiece by adding to a vase with other items to hold it in place.  Below are a few other ideas that are great for putting this cute little project to use for holiday decor. 
Hang on a wall by your Christmas tree. 
Use as a giant ornament on the actual tree. 
Place inside a potted plant in your home or on your front porch. 
Add to the wall of your front porch or on your front door in place of a wreath. 
Can These Stay Outside?
Yes, you can use this inside and outside.  However, if you do place this outside, you'll find that it may need to be weatherproofed or you may want to use something like foam paper or plastic for the leaves so they don't fall apart if it rains or snows.
Taking that into consideration, it would look nice placed on trees or made into a stand in your front yard. You can also attach it directly to the house.   Otherwise, you will need to bring it in when the weather is wet, with either snow, rain, or even heavy fog.
How Can I Customize My Giant Holly Branch? 
Whether you want to change this up to add a bit of your own personality or because you want things to look different, you can add a lot of different things to the design so that you can customize it. Below are a few ideas I had that might give your holly leaf and berry craft a bit of personality.
Spray with glitter spray or add glue around the edges of the leaves and sprinkle with glitter. 
Use different colored balloons and leaves for a unique theme like all blue, silver, gold, or similar. 
Spray paint the dowel rod green so it matches and looks more natural. 
Add a bow below the leaves to give it a more seasonal look. 
Use white textured spray paint or fake snow to spray on the leaves and berries so it looks like it is outside in the real snow. 
Can I Make These in Different Sizes?
Of course! That's the best part of this project.  Not only can you customize it with the ideas above, but you can also customize the size with different sizes of paper, balloons, and dowels.  The idea of having a display of them with a variety of sizes is great for adding a unique look to your holiday decorations.
Supplies Needed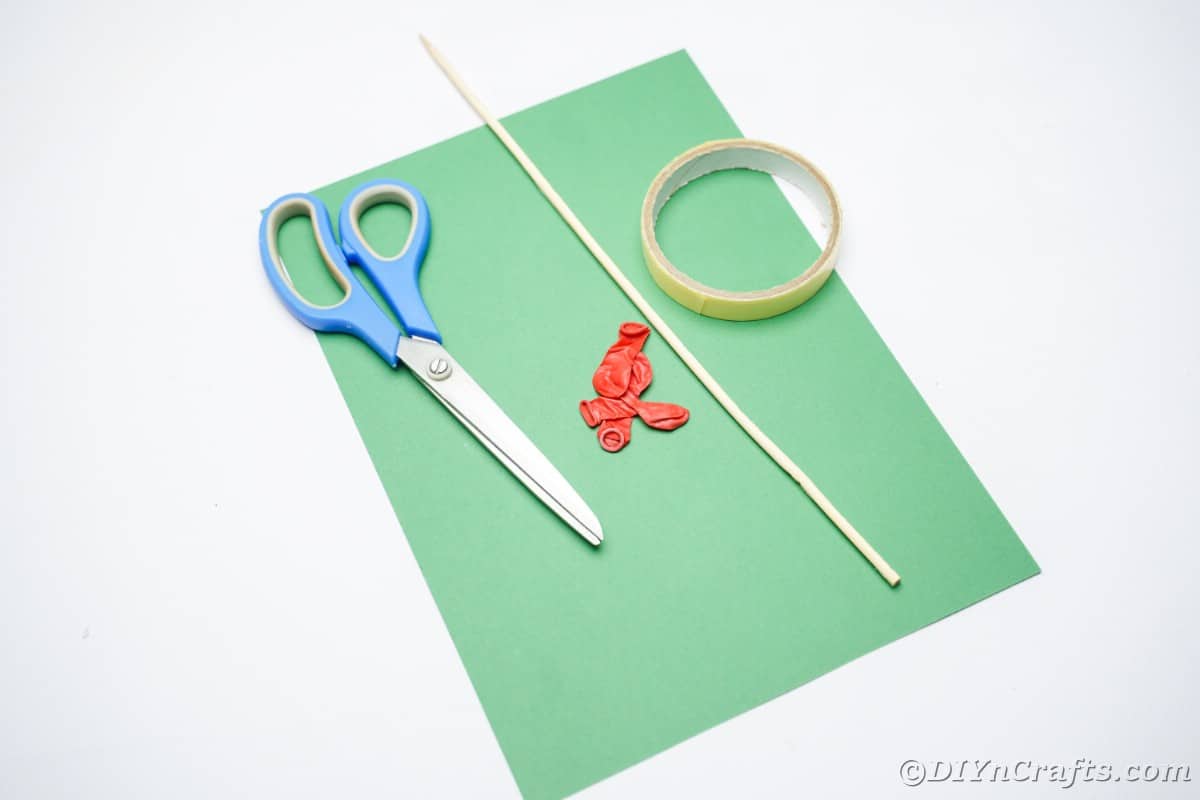 How to Make a Giant Holly Branch
On a large piece of green paper or cardstock, trace the outline of a holly berry. 
Cut this out and use it as a template to make a total of 6 leaves. 
Blow up 2 to 3 red balloons and set them aside. 
Glue the leaves together stacking them on top of each other so they are offset and create a star shape of leaves. 
Attach the dowel to the back of the leaves. 
Add strips of double-sided tape to the middle of the front of the leaves. 
Peel off the top of the tape and attach the balloons to the center.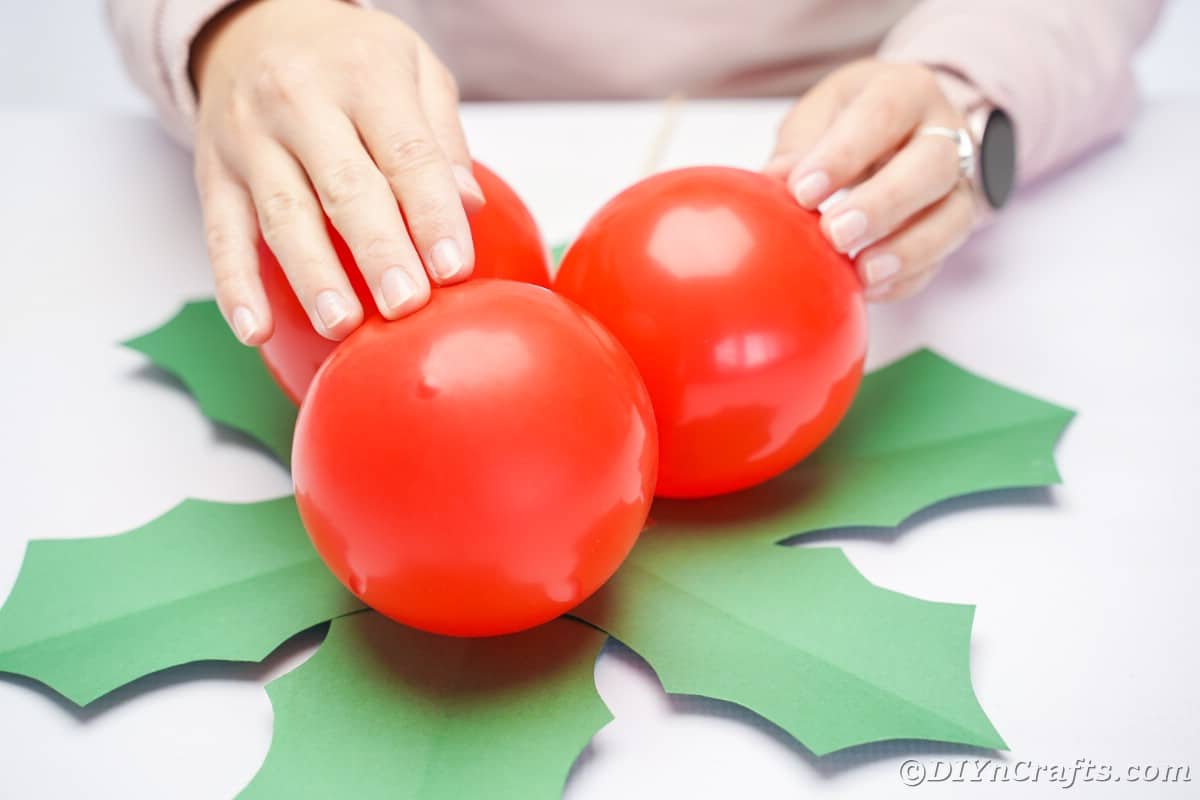 Now you have a giant holly leaf and berry decoration you can place anywhere!
More Easy Christmas Decorations
I love decorating my home for each season and holiday.  Christmas is a favorite and that means I have tons of great ways to add more beauty inside and outside to share.  Below are a few of my favorite ways to turn the holidays into something even more special by decorating with custom-made items.  Bookmark each tutorial, print them out, or pin them to Pinterest to make soon! 
Yield: 1
This giant holly berry and leaf Christmas decoration is a great cheap and easy-to-make idea to decorate your home for the holidays!
Active Time
15 minutes
Total Time
15 minutes
Difficulty
Easy
Estimated Cost
$2
Notes
Use any stick, twig, dowel, or even floral stick to hold up your holly berry and leaves.
Recommended Products
As an Amazon Associate and member of other affiliate programs, I earn from qualifying purchases.
Finished Project Gallery
Add a bit of spray glitter on the sides of the leaves for extra sparkle. 
If putting outside, make the leaves from foam paper or plastic instead!